Regular price
Sale price
$69.00 USD
Unit price
per
Sale
Sold out
PROSPERITY • ABUNDANCE • LUCK
About Burma White Jade
Burma Jade is usually green. Pure White Jade is extremely rare. Many of the types have green slightly on white. White Jade is a gemstone that has the meaning and properties of making the owner's life abundant.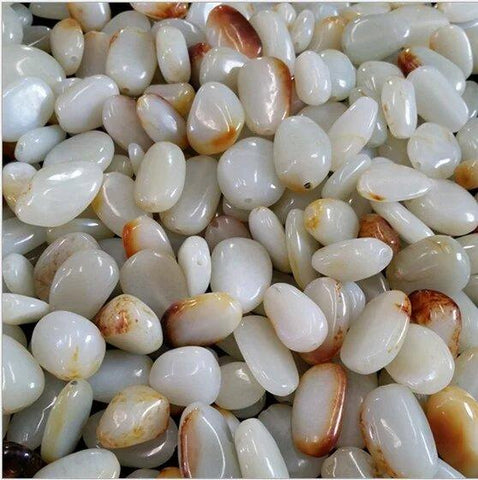 Burma White Jade is a calming, grounding Nephrite jade that also protects the wearer from negative energies. It brings peace, harmony, and luck.
This stone may help you:
Relieves irritability while helping to eliminate negativity
Enhances ability to embrace personal ambitions
Provides balance and harmony for the heart chakra

Go deep within yourself
About Pixiu:
Pixiu, is a Chinese mythical hybrid creature, commonly referred to in the West by the Greek word "chimera", and considered a powerful protector of practitioners of Feng Shui. It resembles a strong, winged lion. Pixiu is an earth and sea variation, particularly an influential and auspicious creature for wealth. 
Are you Wearing Pixiu Bracelet in the Correct Way?

1. Should I wear it on my left hand or right hand?
The Pixiu bracelet is best worn with the left hand, instead of the right hand, because it is believed that if you wear it on the left, it symbolizes attracting good wealth luck and if you wear it on the right, it is giving away your wealth to other people.
2. So, should I face the Pixiu head facing outwards or inwards?
The head of the Pixiu should be facing outwards, as it symbolizes going out to grab wealth luck and bring it back for you. Do not wear it facing towards yourself.
3. Who is suitable for wearing a Pixiu bracelet?
The Minors under the age of 16 and elderly people over the age of 70 should not wear Pixiu bracelets because they might not be able to suppress the vital energy from the fierce creature. Besides that, females should not wear it during pregnancy too.
4. Where should I place it when I am not wearing it? 
When you are sleeping, bathing, or any other situation that you are not wearing it, you should place it in the living room, with the head facing towards the main door. Do not place it in your bedroom
Specifications: 
Pattern: Round

Material: Natural Burma White Jade

Pixiu Size: 45*21mm
Package Inclusion: 
1 x Natural Burma White Jade Pixiu Lucky Rope Bracelet
Buy 2, Get 1 Free Offer

Limited Offer: Add at least 3 jewelry pieces to your cart. Apply the coupon code B2G1 at checkout, 1 item will automatically be free! 

So when you have 3 items in your cart, you will pay for only 2. 

Want more than 3? No worries, add 6 pay for 4. Add 9 pay for 6 etc..
Shipping & Handling

Shipping Time

U.K: 3-5 Business Days

U.S: 5-8 Business Days

Europe: 5-8 Business Days

Asia: 5-8 Business Days

Australia & Canada: 6-10 Business Days

Rest of the world : 7-19 Business Days

- Free worldwide shipping on orders over $78

-30-day hassle free return

You can read our full Shipping Policy Here.
Gifts & Packaging

If you're buying something for yourself and someone else, please let us know viaOrder Special Instructions at Cart page if you would like any specific pieces to be packed in separate keepsake gift boxes.
View full details