Regular price
Sale price
$88.88 USD
Unit price
per
Sale
Sold out
About Amber
Amber is most often found in earthy colors, like yellow, orange, and golden brown. In feng shui, these colors are connected to the Tai Qi (health) area of the feng shui bagua map. The Tai Qi area is in the center of the bagua, so it's connected to all other parts of your home and your life.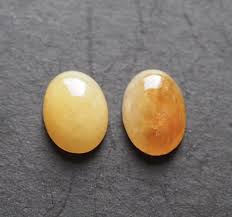 Uses in Feng Shui
Activate Tai Qi, the Health Bagua Area
If you'd like more support in your overall sense of wellbeing, you may want to place a piece of amber in your Tai Qi (health) area of your home. It's easy to find—it's the center of your home. As you're placing your amber, you can set the intention to invite in more radiant wellness.
In the Bedroom
You can also place amber in the center of your bedroom or underneath the center of your bed to invite more earth energy here. Because your bedroom represents you, this would be an especially helpful location if you want to invite more stability, support, and grounding into your personal life.
In the Kitchen
Amber can be a great addition to your
 kitchen.
 Your kitchen represents how you care for and nourish yourself. Try placing amber here with the intention of transmuting any negative energy that might make its way into this part of your home. This will allow you to prepare food in your kitchen with loving, positive energy, which is more nourishing. 
On Your Altar
You can also place amber on your altar. If you don't have an altar, you may want to try setting one up. Find a surface in your home that won't be easily disturbed and gather a few objects that are sacred to you. These could be photos of your ancestors, an oracle deck, a vase of fresh flowers, or anything else that you find meaningful. As you're adding amber to your altar, consider your intention. Are you looking for rejuvenation? A more calm mind? Amber is also said to help us manifest our desires into reality, so you can try setting an intention for your amber to help you bring one of your dreams to life.
Product Detail:
Material: Natural Amber Stone, Sterling Sliver
Handmade
Package Inclusion: 
1

 x Natural Amber Enamel Wealth Earrings - A Class
Buy 2, Get 1 Free Offer

Limited Offer: Add at least 3 jewelry pieces to your cart. Apply the coupon code B2G1 at checkout, 1 item will automatically be free! 

So when you have 3 items in your cart, you will pay for only 2. 

Want more than 3? No worries, add 6 pay for 4. Add 9 pay for 6 etc..
Shipping & Handling

Shipping Time

U.K: 3-5 Business Days

U.S: 5-8 Business Days

Europe: 5-8 Business Days

Asia: 5-8 Business Days

Australia & Canada: 6-10 Business Days

Rest of the world : 7-19 Business Days

- Free worldwide shipping on orders over $78

-30-day hassle free return

You can read our full Shipping Policy Here.
Gifts & Packaging

If you're buying something for yourself and someone else, please let us know viaOrder Special Instructions at Cart page if you would like any specific pieces to be packed in separate keepsake gift boxes.
View full details